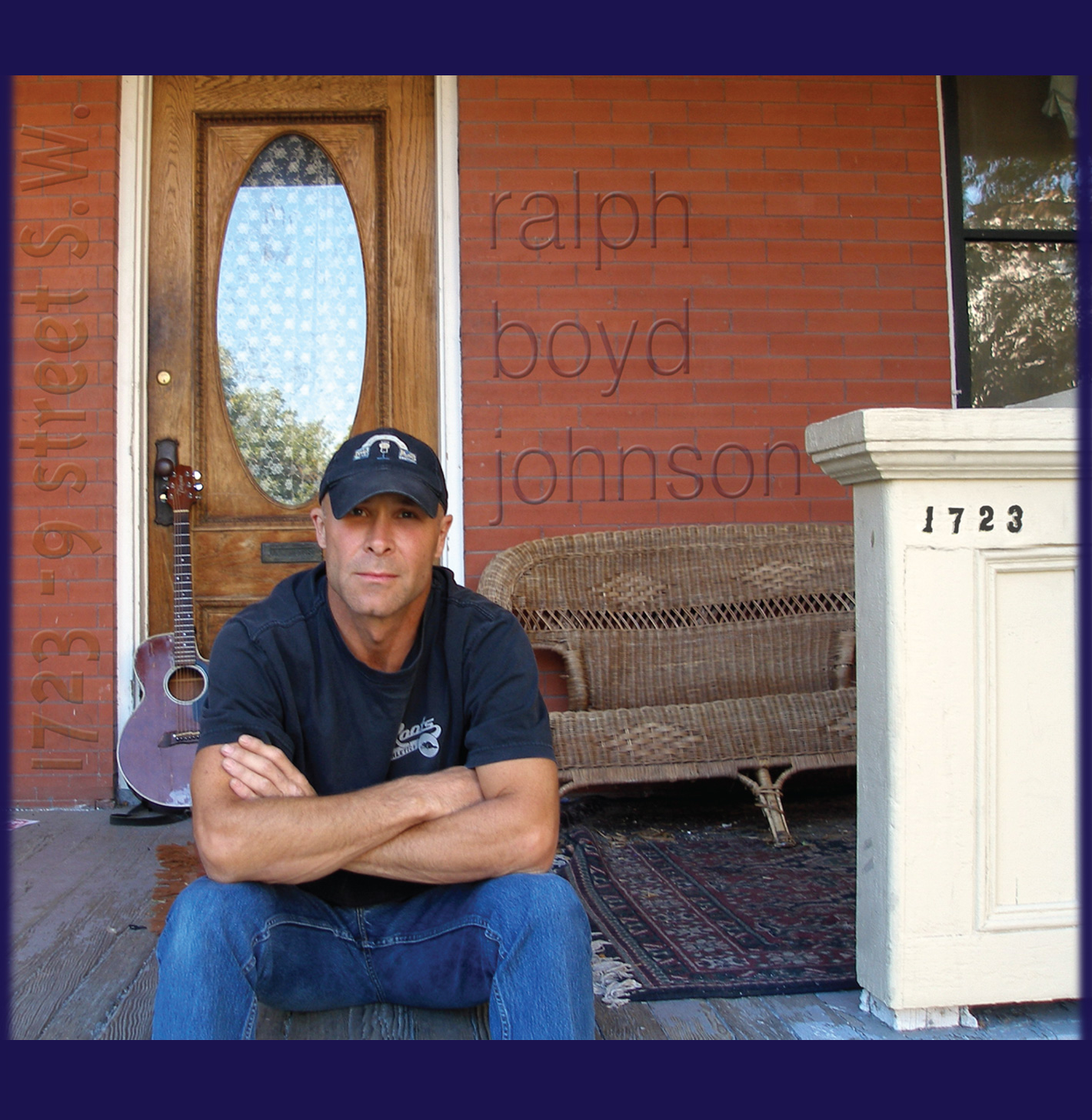 1723 9th Street S.W.
This is the scoop…
1723 is a three story high red brick house that is located at 9th Street SW. Calgary, Alberta. It was constructed around the turn of the century, and is now a designated heritage sight. However, it may always have been sacred ground, for astonishing and unusual occurrences have been known to happen there. People… passersby are said to have heard the voice of Hank Williams or Roy Orbison along with John Lennon and a multitude of the greats. "Somebody playin' guitar like a freight train and a lot of cigarette smoke bellowin' up and out of them windows…"hmmn… could be, for this was the home and final resting place of the late great Wild Billy C., aka William Joseph Cowsill. Billy had the big ear. He understood the emotion of music and deeply touched all with his deliverance of the song. This recording contains Bill's last co-writes, 'Adios Santa Rosa' and 'Foot Of The Throne'. It is my pleasure to bring them to you. Hence, a new disc, entitled 1723 9 Street SW, by Ralph Boyd Johnson and The Inner City Outlaws.
- RBJ 2012
---
---
It was long ago, and not so far away… It went like this:
I had been to a jam downtown that was being hosted by a friend (a happening singer songwriter, Dave McCann) and, so, after the gig, a few of us went over to this new place I had moved into. We had all been drinking and such, when my one buddy, Steve Coffee, (a fine artist and songwriter ) and I got into a disagreement over whether "Obeeleo O was Arrow" or vice versa. Anyways, lads being lads, we started scrapping. Steve took a swing, I ducked and we hit the ground.
After all was said and done, my acoustic guitar, that I had written many a tune on, was crushed through to the bone. Dave Bauer (also a fine songwriter and picker) pointed this out to me once I had dusted myself off. I woke up the next morning with a haunting feeling and a choke in my throat. I stumbled out to the living room where I saw that the entire body of the guitar had been pushed clear through to the back. I damn near was sick. Man! I don't mind tellin' ya, I was more than just a little freaked out. The guitar wasn't worth all that much…It was just that we had done a lot of work together. It was like... Man Down.
I pondered what had occurred. In a fit of disbelief, as I had recently moved, I ran down the stairs to see what the address was. I guess it was because I had recently been in a conversation with someone about numerology.
The address was 1723 9th Street S.W.
Happy ending!
My pal Peter Clarke fixed Ol' Splintie good, and Splintie is still playable to this day.
1723 (the song) is based on a true story. I had just broken up with my gal, and had inherited a cat. It's a little hazy, but I do recall something to the effect that either the cat was drinking hard in those days, or I was.
RBJ
Oh yeah... I quit drinking for two years after that with help from Billy.
---
CLEANIN' HOUSE
"Cleanin' House" is a song I came up with after workin' on my scales all Winter. It just goes to show Ya, I spend all that time wood shedding, to end up writing a tune with two chords in it.
This was one of my Auntie Doreen's favorite tunes. It is dedicated to her and the girls.
RBJ
---
ADIOS SANTA ROSA
Adios Santa Rosa is based on a fabricated story. However, it is geographically correct. The song is inspired by the great balladeer Marty Robbins…Old school, going way back.
I had done a 'writers in the round' workshop at the Calgary Folk Festival with 'Mary Gauthier' and a couple of boys from 'The Sadies'. We were to cover the theme of "killing songs". I've got about 50 of them…I had to hit recall to get it done.
I figured that I'd write a song where somebody..."gets done in 'right out of the gate', so I wouldn't forget it.
I wrote it with my bro, Tim Leacock, and our sage, 'Wild Billy C'. (Billy Cowsill).
It's about a young man whose father drank too much, and was violent to the boy.
Don't forget to hug your kids.
RBJ
---
BLUE BIRD
Blue Bird was written for Billy and Janice. It was a beautiful spring, and those two were one.
---
BILL'S PILLS
In those days, Billy had fought hard to go clean. He had kicked everything after a rough two years of internal struggle. He attended 1835 house and conquered his issues. I can only imagine how hard this was for him. As much as Billy religiously worked on his tunes, he was even more bent on being whole. But things started to break down for Bill. His health begin failing. This went on for some time. Bill was forever in and out of the hospital getting operation after operation.
One tough dude…, let me tell ya...Back then Wild Billy C. was getting so many pills from the doctor to deal with his so many ailments, we were getting them in blister packs. I remember putting them away, and Del Cowsill, Billy's son, (a chip of the Ol' block, brilliant player and writer) was in town, and we were putting Billy's pills away. Del turned to me, and wanted to make sure I was putting them in the right cupboard (He's a good lad). I told Del, without thinking, "I know Bill's Pills", and went upstairs and wrote the tune. Funny thing is, there's a line in the song stating, "…a new coat of paint draped against the ol' jail house décor…" When I played this song for Bill, he said to me," Ya know me pretty good huh, Holmes?" And I said, "About as good as anybody could Billy". He kind of reminded me of William Munny out of Missouri, and we use to laugh about that. Bill made me paint his apartment. He liked blue. The trim was dark blue, and the walls were light blue; even the shadows were blue.
Bill died clean.
All Hail the Warrior....
R.I.P.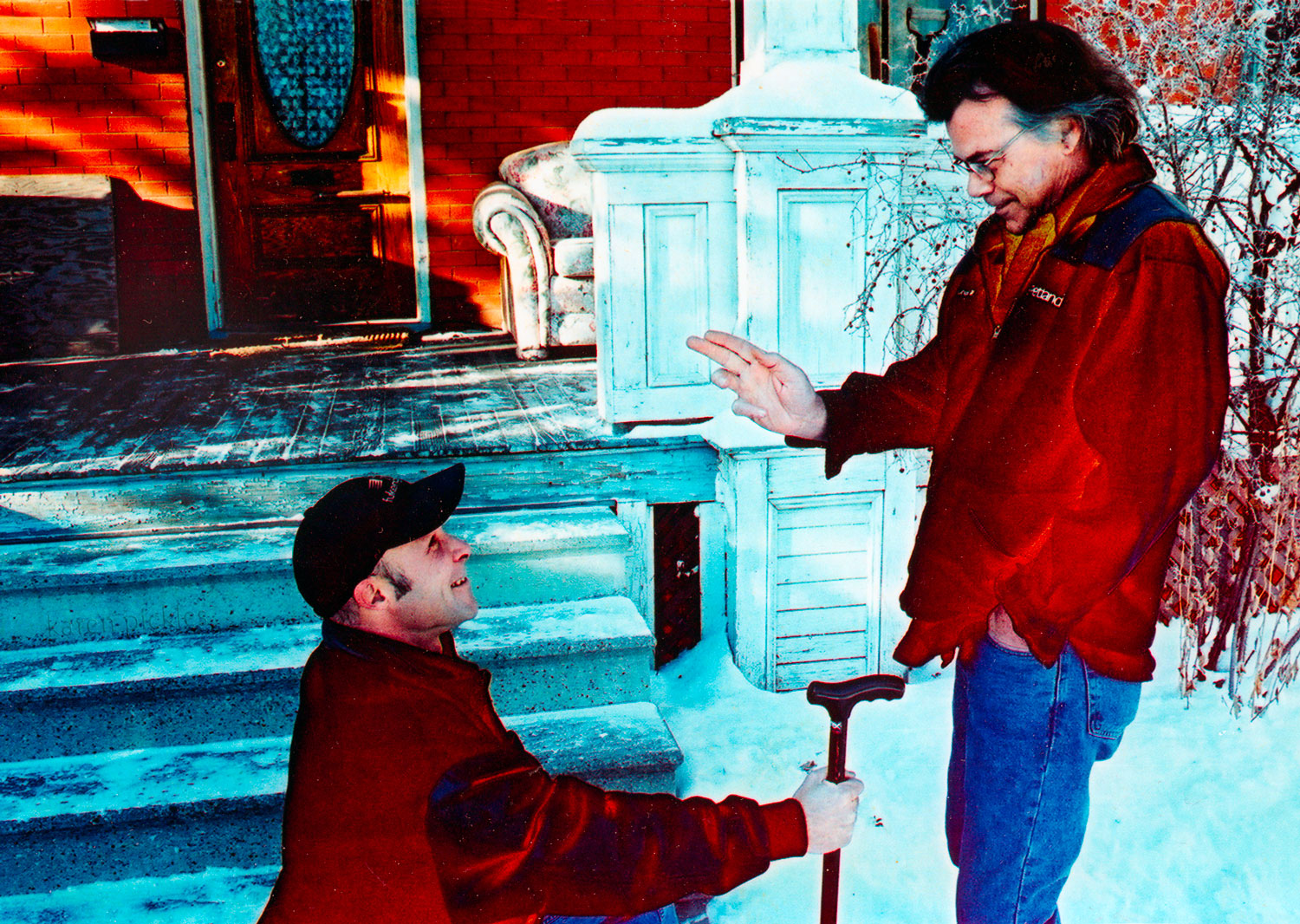 Thanks for EVERYTHING...
RBJ
---
The Legend of Wild Billy C
I had just met "Wild Billy C". He was doing a duo at "Cover to Cover" with 'Elmar the Magnificent'.
I had never heard two dudes sound so good! They slew the room, and killed me and Tom Phillips (Yes Ladies and Gentlemen, THE Man of Constant Sorrow... Himself) Shortly thereafter, I was introduced to "Wild Billy C" by his longtime pal Neil MacGonigill, who had done some wrangling with "Wild Billy C" in the past.
Billy was forming "The Blue Shadows" with Jeffery Hatcher. I had a chance to write with Billy for the debut record, as long as Billy and I could get along. We did. I was lucky enough to write with Billy, and actually get a cut with him on "The Fool Is The Last One to Know". I returned from Vancouver, where Billy was living at the time, went over to Tim Leacock's house, and he and I wrote this song.
It is based around the mid-19th century. It's a duster. The scene set, we attempt to rob a Wells Fargo stage coach.
Tim is the Arizona Kid, 'cause he's got them pearly whites, and is always smiling if he ain't pissed off. I am the Hired Iron. The title speaks to my good friend Billy… Had a lot of fun writing and recording this one.
Thanks Tim
RBJ
---
HOLES IN HIS SHOES
"Holes in His Shoes" is about my friend and fellow musician, Mickey Joy.
The House was a giant red brick and mortar house cut into apartments.
One summer evening, we had been jamming on the front porch for a few hours, when Mickey had his feet up and I noticed he had holes in both of his shoes.
I, of course, said, "Hey Mickey... ya got holes in both of your shoes man!"
A few days later, I came down stairs. 'Backalley John' (A great blues man. Mississippi delta blues harp on the shelf kinda stuff) and some other folks, Mickey included, were on the front porch.
I played the new song for the boys and 'Backalley John' laughed so hard, he damn near blew the nose hose right outta his face! (John was on oxygen by then). It was a magical time. I was surrounded by Angels.
Mickey was a good man, and he is sorely missed.
RBJ
---
FOOT OF THE THRONE
This is the last song Billy ever wrote. He wasn't doing very well in those days, but still practiced everyday if he could. Billy was down to about a lung and a quarter. He still sang better than 90 percent of us today. I had come down stairs to check on him. He played me something he was working on. He was always working, so we wrote the first verse and chorus together, and then Bill passed away. I finished the song from there.
I think Billy would have found "the ironing delicious". I don't care for the taste myself.
RBJ
---
Ol' Black Crow
I had recorded this previously as a spoken word piece on "Dyin' To Go". I meandered over to Russ Broom's house one day to see if he would be interested in working on this piece of material. Russ said he was too busy. He was working with Jann Arden at the time, and I knew he was swamped. So it was all good. About four hours later he phones me and said he worked on it, and it was done. I dig this. It reminds me of a travelling side show kinda thing. Now, six years later, it's out. Thanks Russ! Very cool ...
RBJ
---
Vagabond
The first time I heard this song, it was on the radio; someone else had covered it. I had just finished dialing through all the stations looking for something to listen to when I hit this song. I liked it right away. What's not to like!? Billy and the "Co-Dependents" went on to record this themselves.
I was fortunate enough to watch and hear the live recording go down at the "Mecca Cafe". These were possibly the best days of my life! I had a great night. It made for a great recording, which held the number one position on the charts at Mega tunes for over a year.
That's how good the record was, and still is.
'The Co-D's' were a hell of a band, and they are surely missed by all....
As Billy would say... "ROCK ON"...
RBJ