Ralph Boyd Johnson is a world-class singer-songwriter from Calgary, Alberta, Canada. The title "songwriter" does not clearly define Ralph's work. He's a wordsmith, a poet, and an observer of life who writes songs and poems of every style and genre. His poetry and compelling delivery of the spoken word is what sets him apart from other songwriters.
Ralph has been compared to Steve Earle, Bruce Springsteen and John Prine and is cut from the same cloth as icons hank Williams Sr., Tom Waits, Lou Reed and the like. His debut CD, "Dyin to Go" produced by Billy Cowsill and Tim Williams was nominated for a 2002 Prairie Music Award.
In the spring 2002, Ralph performed the single "What Do Ya Right?" in the CMT music special, "Farm Tracks, A Celebration of Roots Music" hosted by Jim Cuddy and also featuring, Tim Williams, Sue Foley, Stephen Fearing, National Dust and Linda McRae.
Red Motel Pictures (Jeth Weinrich, Director) selected the single, "Common Clay" as the front piece to the feature film soundtrack, "Cowboy Stories" to be distributed by Paramount Pictures (EU) later this year, with Willie Nelson also featured on this soundtrack.
"Dyin To Go" was bolted together as a calling card showcasing the range of Ralph Boyd Johnson's purely original and Canadian work from Folk to Roots Rock to Country and Spoken word. Media have expressed their support of his debut album with ONLY POSITIVE reviews:
CBC Saturday Night Blues:"Ralph Boyd Johnson is the real deal. You know it when you hear the commitment in his voice. You know he's lived his songs, been down a few dark alleys and come out the other end. This CD jumps out at you. Everybody involved did a great job." Holger Petersen
Penguin Eggs Magazine:
Dyin to Go: it's terrific. As good a debut album as I have heard in a long time. Roots music welcomes a brand new voice. Look out for Ralph Boyd Johnson. Les Siemieniuk.
backroadreviews.com:
"God, it pisses me off when someone with this much talent, who has worked so long to share his gifts with the rest of the world, gets passed over and lost in the cracks. I really hope that this doesn't happen because this guy needs to be noticed quick, and in a big way." BJ Weikert, South Carolina
Ralph has written over 250 songs including one on the charts: "The Fool is the Last One To Know", which he co-wrote with Billy Cowsill. He first gained notoriety at the 1997 Calgary Folk Festival, by partaking in a songwriter's workshop with Chip Taylor (Wild Thing, Angel of the Morning), Cindy Church and Sylvia Tyson. He shared the stage with Dave Alvin, Joe Ely, Victoria Williams, Kevin Welch, and Blue Rodeo. He has opened for such acts as Jeff Healy and the Matthew Good Band in 1997, Vance Gilbert and Fred J. Eaglesmith in 1998 and Amos Garrett in 1999.
RBJ showcased at NXNE 2002 in Toronto with the support of FACTOR, performed the Calgary Folk Music Festival for a second time in July 02 and showcased at Prairie Music Week 2002 also with the support of FACTOR. Through these showcases, he attracted interest from two booking agents, Chris Hopkins (Chris Hopkins Productions) and Pat McGannon (PM Gigs).
November 29th Ralph Boyd Johnson played to a packed audience of 350 for his CD Release concert. In the wake of that event, Ralph is preparing for a Canadian tour with two side members of his 5-piece band, "The Ruckus", in support of "Dyin to Go". Selected singles from this recording will be made available to radio stations across Canada (commercial and campus) nationally starting in January 2003.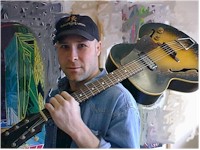 © RBJ Bio, Rumble Seat Recordings