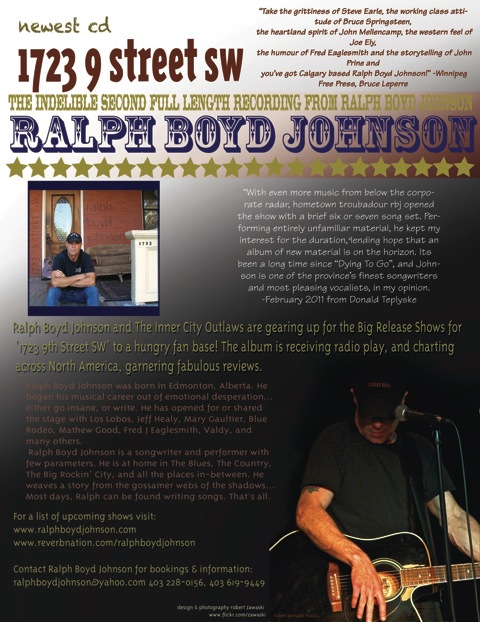 ---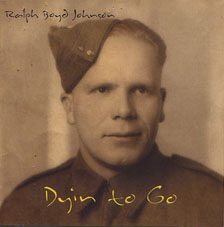 After playing for years in dives and diners so far underground you could hear the devil screaming for a front row seat, we are now digging out from under to release our first fully produced CD aptly entitled, "Dyin to Go".
"Dyin to Go" was bolted together over 14 months as a calling card showcasing the range of Ralph Boyd Johnson's work from Folk to Roots Rock to Country and Spoken word. "Dyin to Go" is akin to an art gallery exhibit with a collection of work from the same artist: every piece original, each piece unique.
If you're not dead, you will be able to identify with the tunes on "Dyin to Go". Containing songs of celebration and howls of desperation, it could be considered social commentary with a rib of humour. It was never intended to be of a thematic nature yet by way of its own being, "Dyin to Go" has created its own theme, encompassing some 20 odd years of writing.
So today I have carved out a thousand beer coasters (CDs). The stone has been set, the die cast, and Ralph Boyd Johnson is "Dyin to Go".
Kudos to the Inner City Outlaws, Billy Cowsill and Tim Williams for crafting this project with tradesmen-like skill. The experience in and of it self was the take home pay, Boys! Thanks Men.
Recent reviews of Dyin To Go:
Calgary Herald 03/08/02: "From the spoken word track Ol' Black Crow to the heart-breaking Bombed Out House, Dyin To Go manages to be both personal and universal at the same time. Johnson's compelling whiskey rasp and stellar songwriting are a one-two punch that show exactly why he's been compared to Steve Earle and Springsteen..." Shelley Boettcher
Red Deer Advocate 03/01/02: "When I first heard RBJ five years ago, I knew he had the gift. Dyin To Go confirms his inherent mastery of songwriting and performance..." Donald Teplyske
All tracks written by Ralph Boyd Johnson except as noted.
© 2002 - Rumble Seat Recordings
Dyin to Go - Tracklist: