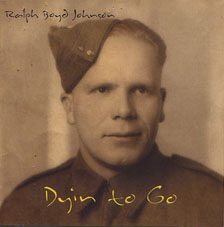 CD Review - RALPH BOYD JOHNSON - Dyin' To Go

RALPH BOYD JOHNSON
Dyin' To Go
(Indie) – RBJDTG112001
Produced by: Tim Williams and Billy Cowsill
(12 Selections – Playing Time 48:35)
Mystery / Bombed Out House / Dyin' To Go / Hit The Deck / She Used To Worry / (Hard Act To Follow) Back Alley John / Grease Fire Hot / What Do Ya Right? / Common Clay / Mama's Little Baby / Ol' Black Crow / Ode To Steve
Ralph Boyd Johnson is a well-weathered Calgary-based balladeer who makes his record debut with Dyin' To Go, an album of his original songs, most of which are in the story-telling vein. He delivers the material with a Steve Earle / Fred Eaglesmith / Russell deCarle flair and throws in a couple of surprises along the way.
Several tunes stand out. She Used To Worry is a throwback of sorts to the rockabilly raunch of Elvis Presley and this one deserves to be given airtime on country radio. Mystery is a driving country/rock tune reminiscent of the hit songs popularized by Canada's Charlie Major; and Hard Act To Follow) Back Alley John is a powerful country/blues tune.
Ralph Boyd Johnson's story-telling prowess is probably best captured in Ol' Black Crow – the story of an aging black pugilist (Jack Johnson perhaps?). RBJ performs the song in spoken word form, and it is mesmerizing to say the least, and a prime example of his overall entertainment value.
The album is co-produced by Tim Williams and Billy Cowsill, two veterans of the Western Canada music scene, both having achieved substantial success with various previous projects; Cowsill more recently as a member of the now defunct Blue Shadows. Their off-beat touches are well defined here and play a key part in the overall success of the album. The sessions were cut at Calgary's Rocky Mountain and Night Deposit studios.
Country Music News, Larry Delaney, September 2002

Winnipeg Free Press September 28, 2002
Bruce Leperre
Take the grittiness of Steve Earle, the working class attitude of Bruce Springsteen, the heartland spirit of John Mellencamp, the western feel of Joe Ely, the humour of Fred Eaglesmith and the storytelling of John Prine and you've got Calgary based Ralph Boyd Johnson! Johnson has done a lot of livin'…spending time in jail and in rehab and draws on his own real life experiences and acquaintances to write this postcard from the edge and displays a rare poetic conviction and sense of humour doing it. One moment he'll have you lookin' for a Kleenex and the next he's kickin' your ass but you'll be movin' your feet and singing along the whole time. Dyin to Go is the perfect soundtrack for that next Friday night pickup ride down an old dirt road…

Backroadsreviews.com May 13, 2002
BJ Weikert
We finally have his debut album, "Dyin to Go" and I have to ask myself, "What took so friggin long?"
Ralph has opened or played on stage with the likes of Joe Ely, Dave Alvin, Billy Cowsill, Victoria Williams, Kevin Welch and Blue Rodeo. A lot of pressmen have compared his music to that of Bruce Springsteen, Steve Earle, John Prine, Tom Waits, etc. Screw all that. He definitely has his own thing going on, and if I were to identify him with anyone, it would have to be perhaps, Fred Eaglesmith.
"Hey Boyd" I asked him, "Did you listen to any traditional country music when you were , like in high school?" "Fuck no, " he replied, "I hated that shit, I was into The Stones, Black Sabbath's first album…"
Later in life as Ralph grew older and became turned on to the Texas songwriters and suck, his music took on a new edge and influence. I asked him if he knew about the new Flatlander's album coming out and he said he was staring at the cover of Joe Ely's Greatest Hits album as we spoke. (The Flatlanders consist of Texas musicians Joe Ely, Jimmy Dale Gilmore and Butch Hancock).
Ralph is a true songwriter in the best sense of the word. He told me it usually takes him up to three weeks sometime to finish just one son. An exception is the song "Ode to Steve" on "Dyin to Go" aobut his cousin's husband who had a big influence on his life and helped raise him, who died of cancer. Ralph says he wrote the song in about three hours.
"Was Steve standing over your shoulder when you wrote that one?" I asked. Ralph replied, "I swear to god, he really was."
I guess Ralph Boyd Johnson is a singer-songwriter and balladeer who does folk, roots rock, country and even spoken word, sometimes separate, sometimes in combination, depending on the song and how the mood fits.
A couple of the songs on the album just kick ever-lovin ass and rock out. The songs "Dyin to Go" and " Hit the Deck" just demand to be cranked way up. I was playing "Dyin to Go" in my truck and had stopped to grab a paper in front of a grocery store, and several people sitting outside at a restaurant nearby were so impressed that they asked me about the artist.
Recorded over a period of 14 months, the new album contains other gems like the heartbreaking "Bombed Out House" and "She Used to Worry"; an Elvis-like rave-up that really brings to mind the 50's with its ear an rib-tickling background vocals. "Hard Act to Follow" is another about a desperate character who leads a desperate, hard partying life. One of my faves is "What Do Ya Right" about an outlaw who is out hitchin' trains, has a lot of bad habits and is involved in some serious criminal activity. In the song he asks "What do ya write on the back of postcards from the edge?"
"Ol' Black Crow" is a pugilistic spoken word piece about a black bare-knuckle fighter who pounds it out to the death. This is one hell of a piece of poetry and goes to demonstrate the depths of Johnson's obvious talent.
God, pisses me off when someone with this much talent, who has been working so long to share his gifts with the rest of the world, gets passed over and lost in the cracks. I really hope that this doesn't happen because this guy needs to be noticed quick, and in a big way.

Penguin Eggs Magazine March 2002
Les Siemieniuk
Ralph Boyd Johnson has been a fixture in the local Calgary music scene for years. He's been talking about doing an album as long as I can remember. Well he finally pulled together the plan and here it is.
Dyin to Go is a rootsy, ballsy, confident debut. Comparisons to Steve Earle and John Hiatt are bound to come up in Johnson's vocal style but he is his own man. He rocks, he moans with passion and conviction, and he writes about those alt country standbys-losers in life and love with an eerie sense of experience. From the opening drumbeats of Mystery Johnson takes us on a roots rock tour of his world. He also has the guts to include two terrific spoken word pieces-Ol' Black Crow" and "Ode to Steve". It could have been maudlin' but they both take what is a really good album that one step higher.
Johnson has also assembled a great band, including such Calgary stalwarts as Billy Cowsill, Ross Watson, and Tim Leacock from The Co-Dependents, Thom Moon (ex of Ian Tyson), Tim Williams, the blues man, and everybody's favourite keyboard player Ron Casat. They provide the required energy and roots rock sound to showcase the songs Ralph has come up with.
"Dyin to Go": it's terrific. As good a debut album as I have heard in a long time. Roots music welcomes a brand new voice. Look out for Ralph Boyd Johnson.

Calgary Herald March 2002
Shelley Boettcher
The debut recording from one of Calgary's most popular country rockers, Dyin to Go belongs in eh collection of every local alt-country fan. From the spoken word track Ol'Black Crow to the heartbreaking Bombed Out House, Dyin to Go manages to be both personal and universal at the same time. Johnson's compelling whiskey rasp and stellar songwriting are a one-two punch that shows exactly why he's been compared to Steve Earle and Bruce Springsteen. Oh yeah, the album also features some of the best-known names in Calgary's alt country and folk music biz-guys such as Tim Leacock, Ron Casat, Billy Cowsil. 'Nuff said. It's good.

All Music Guide Expert Review May 2002
Jason MacNeil
Dedicated to those who lost their lives in wars past protecting freedoms, Ralph Boyd Johnson seems just as comfortable walking a tight rope. The tight rope consists of going between the Stetson-polished country boogie of Garth Brooks and the roots rock long performed by John Cougar Mellencamp and Steve Earle, tending to be more at home in the latter. "Bombed Out House" and "Common Clay" are more than enough evidence that the singer knows how to carry a song and a melody from start to finish. Johnson also can mix old-time rock and roll within the modern country and western three-minute framework, such as he does quite easily on the title track. The record is also quite fearless, which results in some unexpected surprises, the horns on "Hit the Deck" being one example. Ballads aren't invisible also, as "Hard Act to Follow (B.A. John)" consists of a laid-back alt-country tempo and some backing harmonies. A lengthly finale on "Ode to Steve" slows things to a crawl, but an enjoyable crawl at that despite the morbid tale. By far the stellar track has to be the Springsteen-styled "What do Ya Right?" as roots rock comes to the fore.

Red Deer Advocate March 2002
Donald Teplyske
As did Hank Williams, Johnson witnesses the drudgery and darkness of his environment but never allows the magic and light of his human existence to be lost amid betrayal and abandonment.
Johnson offers vigorously personal songs that rip the listener's heart out through their throat. He counters these with reflective, emotional songs that can make one grieve with heart in hand.
Johnson who wrote for the Blue Shadows' The Fool is The Last One To Know, recently released his debut recording and it is a superior effort. The songwriting is expressive with an informal, back-porch quality about it while encompassing hs Earle and Eaglesmith influences. Mystery and Bombed Out House have commercial potential while What do Ya Right? And Common Clay have more literary breadth. The most reflective song is a softly sung epic entitled Ode to Steve and is related in the voice of Johnson's brother.
When I first heard RBJ five years ago, I knew he had The Gift. Dyin to Go confirms his inherent mastery of songwriting and performance.

CBC radio Saturday Night Blues September 2002
Holger Petersen
Ralph Boyd Johnson is the real deal.

You know it when you hear the commitment in his voice.

You know he's lived his songs, been down a few dark alleys and come out the other end.

This CD jumps out at you.

Everybody involved did a great job.