Swampdonkey Amplifiers� are lovingly crafted by hand in the Alberta Foothills using the highest quality components available. Our designs are all-tube with NO digital electronics and NO switching electronics in the critical signal path. Our amplifiers are all individually hand inspected by the Canadian Standards Association (CSA) and are approved under SPE-1000.
Our design philosophy is to provide players with a versatile, reliable, well built product with a unique sound that will stand up to years and years of professional use. And to keep you looking and sounding good on the road, all our amplifiers & speaker cabinets come standard with a full ATA flight case.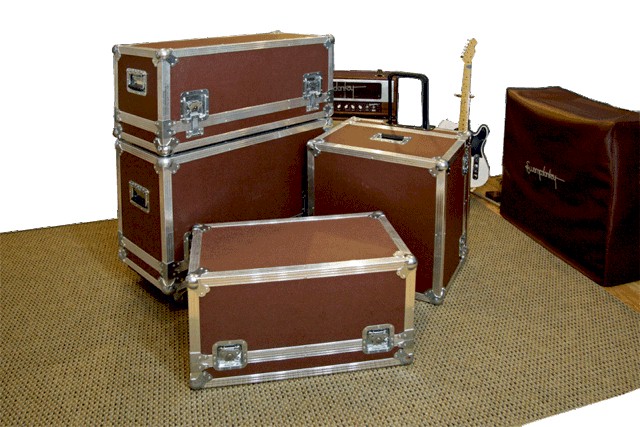 At Swampdonkey Amplifiers�, we realize that "tone" is an esoteric quality that enters the guitar through your fingers. Your gear either helps you get there, or it gets in your way. We think that every player who seeks their own amplifier tone needs to be able to control the signal path with as much flexibility and simplicity as the builder can provide without adding noise or other artifacts. That being said, the basic platform for an amplifier must be able to deliver it's own unique expression of amplification and tone generation. The inspiration, the player, the instrument and the amplifier are all essential and when properly combined are a force of nature.
Our designs are originals, just like you are. We realize that many players are after something different. Something unique to call their tone.
Our products are designed with a 100 year lifespan in mind and we offer a 3 year warranty on all chassis.
Five Star Field Service is available in the Calgary area to resident and touring guitarists who require on-site service for tube amps, gear and guitar electronics. Please see our NEWS page for details !
We also offer repair and modification services for vintage & modern amplifiers and custom amplifier design upon request.
Please contact us with your needs !
WANTED: Non-working / Basket case tube amps of all sorts for rebuilding & collecting. Cash paid !
The names "Swampdonkey Amplifiers�", "Gypsy�", "Moosette�" and "Five Star Field Service�" as well as our distinctive logo design are Trademarks of Moose Meadow Enterprises Ltd.